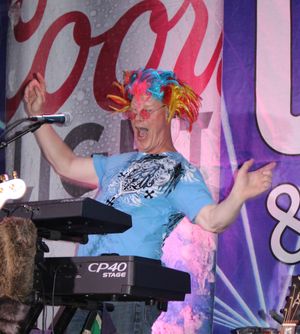 Joker
Keyboards

The wild man behind the mask...
Prodigy of a High School music teacher from Rushville, Illinois, this ivory whacker
from the corn desert has built a career on drinking beer and making people laugh.
He takes every song and makes it his own wailing away on his beer spattered
keyboards all while trying to maneuver his mouth under a beer bong.  Better known
to all Rushvillians as Michael Wynn, he was nicked named by J Bird back in 2004
after remarkably making an exact resemblance of the face of Batman's nemesis
"The Joker".